How carbon composite products are made
Challenge's technical capabilities
ensure performance levels required by customers
Our carbon production processes combine the expertise of skilled engineers and the latest technical facilities.
Sections respectively in charge of the design, development, production, and quality management of carbon composites are organically linked together to build a basic foundation of advanced knowhow and technologies and create a world of carbon that has never been seen before.
Process 1

Design and Development

To produce products that satisfy the performance level required by customers, molds and structures are designed that embody the technologies and knowledge we have accumulated to date. Active efforts are also made to select materials that bring out the characteristics of raw materials and to create composites with different types of raw materials.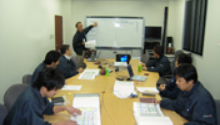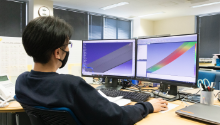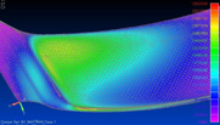 Process 2

Mold production

Molds that are used to laminate carbon prepreg sheets are created according to methods that match production volumes and by selecting optimum raw materials such as aluminum and iron alloys, carbon, and gypsum.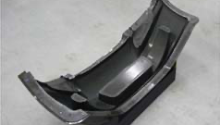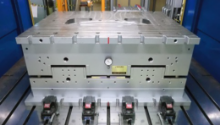 Process 3-1

Autoclave
molding

Carbon prepreg sheets are cut, laminated and vacuum-sealed using bagging film to appress them to the mold. The entire mold is then placed in an autoclave to heat cure the prepreg layup while applying pressure.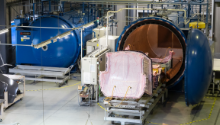 Process 3-2

PCM
molding

After cutting the fast-curing carbon prepreg sheets and transforming them into a preform, the preform is injected into a mold for hot press molding and is heat cured by applying pressure.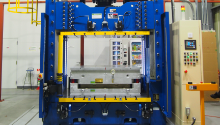 Process 3-3

CF-SMC
molding

CF-SMC: A sheet molding compound (a material made by impregnating short carbon fibers with thermosetting resin) is cut, placed in a mold for hot press molding, and heat cured by applying pressure.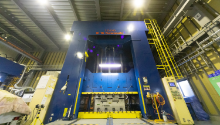 Process 4

Secondary processing

After a product is released from the mold, holes are drilled in it or its perimeter is trimmed using an NC cutting machine, waterjet cutting machine or a RoboTrim machine. For small-volume productions, these tasks may be performed manually. Components are also attached or joined as required.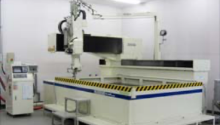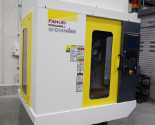 Process 5

Coating

Coating is applied manually or by robots along an automated coating line (electrostatic coating) in consideration of the required appearance quality and production volume.
The automated coating line ensures an even coating thickness owing to the characteristic adsorption action of electrostatic coating, and provides high-quality, environmentally friendly coating with minimum loss.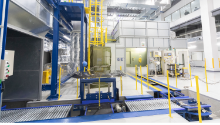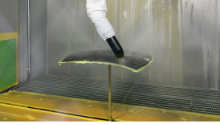 Process 6

Inspection and quality assurance

Inspection and quality assurance are performed in accordance with the desired quality of the final product, such as through visual inspection by an inspector, dimensional inspection using a measuring instrument, automatic measurement inspection using a coordinate measuring machine, or foreign matter inspection using an X-ray fluoroscope. We have acquired ISO 9001 and MSJ4000 certifications.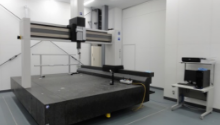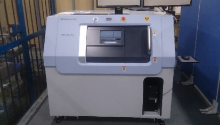 Process 7

Packing and delivery

To make sure products are delivered safely to customers, procedures for their careful packing are standardized so that shipment operations can be performed flawlessly. Consideration is also given to environmental protection, by creating reusable transport cases for each product, in an effort to reduce waste generated from packing materials.