Message from The President: "Our Challenges"
We strive to develop new processing methods to
provide customer-satisfying products
Challenge was founded in 1970 as a pioneer in the field of automotive racing. In 1988, we became the first company in Japan to mass-produce automotive components made of carbon fiber reinforced plastic (CFRP), and have since accumulated a steady track record in providing components manufactured by this new process as a leader in CFRP.
In November 2012, Challenge became a wholly-owned subsidiary of Mitsubishi Rayon Co., Ltd. (now Mitsubishi Chemical Corporation). As a development and production center for CFRP products, we actively promote CFRP not only for automotive applications but for a wide range of other applications as well.
In 2013, we collaborated with Mitsubishi Chemical to establish a process for the mass production of CFRP products according to the high-cycle molding process called Prepreg Compression Molding (PCM), and commenced the production of CFRP products.
Our continued efforts to hone our PCM-based mass production technologies have paid off in the form of receiving high acclaim from Nissan Motor Corporation for our ultra-lightweight carbon roof and winning the 2020 Nissan Global Supplier Award—Global Innovation Award.
Even while moving forward, we will stay true to our concept of manufacturing as a means for addressing environmental and social issues face-on. Through our provision of safe, secure and stable products and services in a timely manner from the customer standpoint, we will make company-wide efforts to "become a strong presence" that encompasses customer expectations and trust.
We thus ask and thank you for your continued support and guidance.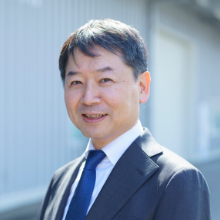 Hisashi Tatsumi, President
Challenge Co., Ltd.