Our strengths (processes and technologies)
From prototype to mass production, we employ the best possible processes and advanced technologies
Selection of
3
carbon composite technologies
Prepreg Compression Molding
Together with Mitsubishi Chemical, we have developed a high-cycle molding process that is compatible with medium-volume productions (up to 3,000 units/month).
Fast-curing prepreg is transformed into a preform and molded under high temperature and pressure.
A good external appearance can be achieved in a short molding time, and high-quality, high-performance products can be produced at low costs.
Hybrid molding is also possible in combination with metals and carbon fiber sheet molding compounds (CF-SMC).
To reduce trial production costs, the autoclave process may be used with a low-cost mold for trial production and the PCM process for scaled-up mass production.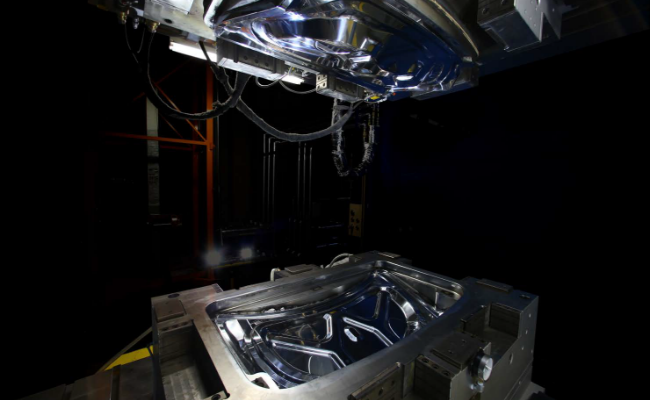 Product images

Car roof
©Nissan Motor Corporation

X-ray cassette front panel
Molding conditions

Curing in 5 min., molding temperature 130 – 150°C, molding pressure 1 – 10 MPa
Autoclave Molding
An autoclave refers to a large-scale pressure cooker, in simple terms.
Autoclave molding has a history of approximately 40 years beginning in the 1980s, and is a representative process that has been widely employed in manufacturing genuine components for racing cars and automobiles.
An experienced worker cuts and laminates prepreg sheets in a mold, air-seals and depressurizes the layup using bagging film (a film for creating a vacuum state), places the entire mold in the autoclave and applies pressure to heat-cure the prepreg.
This process is suited to the production of high-quality, high-performance products as it offers a large degree of shaping flexibility, and is an optimal process for small-volume productions ranging from a single prototype to around 300 units per month.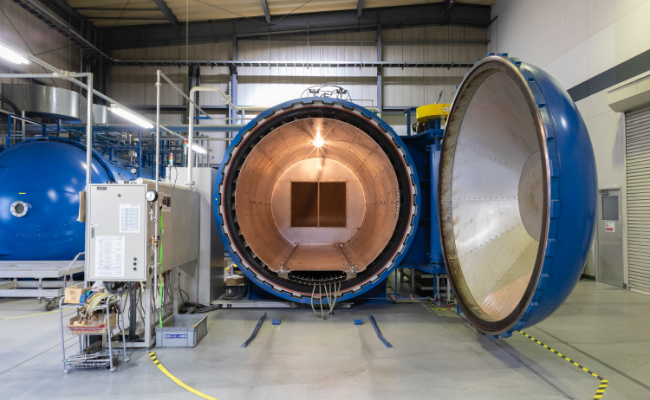 Product images

Car hood
©NordRing

Car rear wing
©NordRing

Car console
©NordRing
Molding conditions

Curing in 4 hours, molding temperature 80 – 180°C, molding pressure 0.1 – 0.6 MPa
CF-SMC Compression Molding
This is a high-cycle molding process in which sheets made of short carbon fibers impregnated with thermosetting resin (CF-SMC: sheet molding compounds) are shaped with a hot press molding machine.
Because chopped carbon fibers are used, properties such as rigidity and strength cannot be expected as much as other processes, but it offers short molding cycles and is a low-cost process suited to large-volume productions.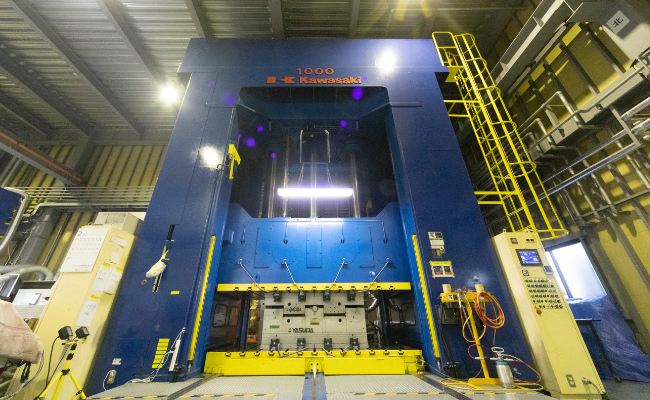 Molding conditions

Curing in 5 – 10 min., molding temperature 130 – 150°C, molding pressure 3 – 10 MPa